Wally's Audition:
Exterior:
Paramount Studios
5555 Melrose Ave
Seen on Billy Wilder's Sunset Blvd. (1950)
Related: Similarity with Havenhurst gate

Pink's:
711 N. La Brea Ave
Close to Melrose... and is pretty close to the Santa Monica Blvd. prostitution area. Pink's Hot Dogs is now featuring the "Mulholland Drive Dog" as one of their celebrity sandwiches (»menu).

Winkie's:
Sunset Blvd.
Set location is Caesar's Restaurant
1016 W. El Segundo Blvd. (Gardena)
Picture Gallery | Interior Table Map
Thread: Locations, PLEASE HELP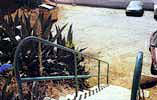 Behind Winkie's:
A Dumpster where the Bum lives behind a wall.

Aunt Ruth's:
1612 Havenhurst Dr.
This is not a valid street address. Havenhurst cuts off at 1500.
Real location is Il Borghese, 450 North Sycamore Ave
Outline of Ruth's apartment | Havenhurst Picture Gallery
Thread: 1612 Havenhurst Found - Photos Needed!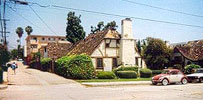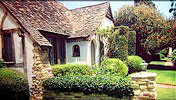 Diane Selwyn's:
2590 Sierra Bonita Ave
Again, this is not a valid street address. Note that 1899 is the last # on Sierra Bonita Ave. Origin is 2900 Griffith Park Blvd. (Silver Lake)
Route Map | Sketch of SB courtyard | Outline of apt #17 | Picture Gallery

Sunset Blvd.: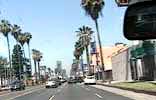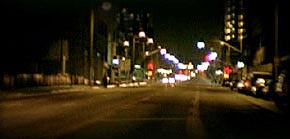 ---
Downtown L.A.

Ed's Office:
Barclay Hotel
103 W 4th St
… just two blocks away from Ryan Board and Club Silencio

Ryan Board Office:
Exterior:
Banks-Huntley Building
634 South Spring Street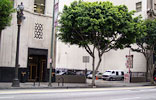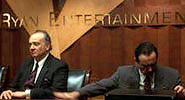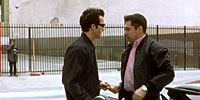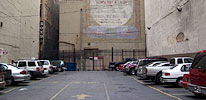 Club Silencio:
Exterior: The parking lot entrance is
Palace Newsreel Theatre
630 South Broadway
(directly across the street to "Ryan Entertainment"; you can even see the parking lot, when Adam leaves the building; watch the huge spot on the wall)

Interior: Tower Theater
802 South Broadway
This terra-cotta-clad building is located on the corner of Broadway and 8th Street (3 min. walk from parking log and "Ryan Entertainment"). Built in 1927 and designed by noted theater architect S. Charles Lee, it is his first theater design of eclectic style with French elements. Now closed and unoccupied.
Thread: theater interior/identity

Park Hotel:
Exterior: Facade is a typical backlot street scene seen at the end of
"Inventing The Abbotts" (1997)
Interior: The "sleazy hotel" interior scene was filmed at the old Tower Theater (where Club Silencio was filmed in). Really steep balconies that goes up to the catacombs where there are these old, crumbling offices.

---
Canada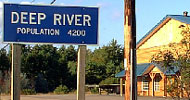 Deep River, Ontario:
I'm going to DEEP RIVER, Ont !
Related Link:
Note: Dorothy Vallens in "Blue Velvet" lives in Deep River Apartments (where she is repeatedly abused by Frank) - Diane is from Deep River, Ontario (where she was presumably abused by a family member) - (TristLove)
► see Trivia and Sexual Abuse