---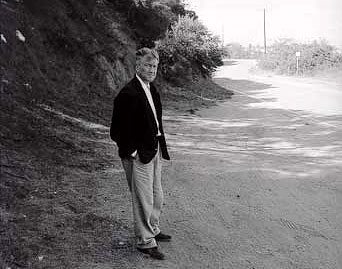 We enter Diane's fantasy world at a point right before the assassination attempt, when the hated persona is traveling up Mulholland Drive, the fabled road that leads up a hill where important personalities in the movie business live. The hill is almost like Mount Olympus to Diane, because the people who live on that hill are like gods in the movie business, and now the hated persona is heading up there to try to become one of them. - (Alan Shaw)
---
INTERVIEWER: Do you drive Mulholland Drive often?
LYNCH: I live near it, and I drive it quite often. It's a mysterious road. It's rural in many places. It's curvy, it's two lanes, it feels old. It was built long ago, and it hasn't changed too much. And at night, you ride on top of the world. In the daytime you ride on top of the world too, but it's mysterious, and there's a hair of fear because it goes into remote areas. You feel the history of Hollywood in that road.
---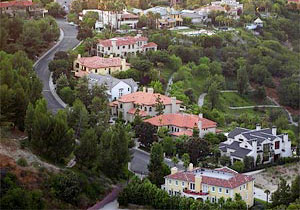 It's a road that has been the same for many years. It goes along the top of the mountain range, the Santa Monica mountains. It separates Hollywood and Santa Monica from the Valley, what they call the Valley. And because the road is high on the mountains, and a lot of it goes through strange residential areas, rich and poor, but a lot of it is wild, you see coyotes. So there is a lot of mystery and a lot of stories coming from Mulholland Drive.
Among the many stories on Mulholland Drive, we could report the perilous ones transferred that Edward Bunker carried out there. Bunker, ex-gangster who spent eighteen years in the shade of many penitentiary cells, reconverted today into the writing of novels and scenarios (Animal Factory). "the night, one made crowned races here. Several cars of face, me I had a Jaguar SK 140, tell it in connection with mad expedition that it carried out on Mulholland Drive, with the time of his life dissolute. Friends watched to block the way. Sometimes, that finished off the road". This dark version of night races unquestionably evokes a famous sequence of "Rebel Without a Cause" and finds themselves directly at the base of the first sequence of Mulholland Drive.
---
Trivia
David Lynch's house is in fact just off Mulholland Drive, in the Hollywood hills. People who've been there say his studio is a mess. He chain smokes and chucks the fag butts on the floor. There's no film stuff in it I'm told, just painting and craft stuff.
- (Steve Rose on guardian.co.uk)
---
Stars living on Mulholland Drive
6432: MADONNA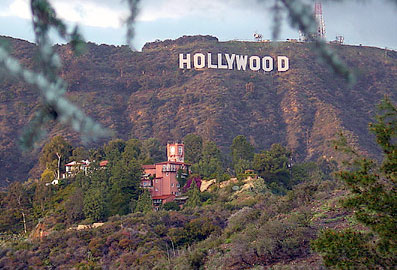 Madonna's former home "Castillo del Lago"
Mulholland Highway (at Canyon Lake Drive): Madonna's former home, the "Castillo del Lago," where (on May 29, 1995) a deranged stalker scaled the wall of the estate and was shot three times in a struggle with an armed guard employed by Madonna. The stalker was later convicted and sentenced to a lengthy prison term. Earlier, another stalker had been arrested at the same Madonna estate and sentenced to a year in jail. Both men claimed to be Madonna's husband. Back in the 1930's, this terra cotta & yellow-striped house in the Hollywood Hills (just below the Hollywood sign), was an infamous gambling casino run by mobster Bugsy Siegel.
The castle was bought by Simon Fuller in 2004.
6980: ADAM KESHER
7430: ARSENIO HALL (Pyramid Place, off Mulholland)
7680: MOLLY RINGWALD
9621: CHUCK CONNORS, DAN DURYEA
12721: JOHN LENNON
12850: JACK NICHOLSON, ROMAN POLANSKI
in the Hollywood Hills: actor Jack Nicholson's house, where director Roman Polanski ("Chinatown" and "Rosemary's Baby") allegedly bedded a 13-year-old girl, resulting in Polanski's 1977 trial, conviction, and subsequent self-exile in Europe. (Polanski's wife, Sharon Tate, and their unborn child had been murdered by the Manson gang in 1969.)
12900: MARLON BRANDO
in the Hollywood Hills: actor Marlon Brando's house, where his son, Christian Brando, shot and killed his half-sister's lover, Dag Drollet, in May of 1990. (Christian claimed the shooting was accidental, and occurred during a fight allegedly sparked because Cheyenne said Drollet was beating her) He was convicted and sentenced to 10 years in prison. His half-sister, Cheyenne, committed suicide in Tahiti in 1995. After his release from prison in January of 1996, Christian returned home to his father's estate.
13030: IDA LUPINO, JOAN FONTAINE
13511: DEMI MOORE, BRUCE WILLIS
13671: WARREN BEATTY & ANNETTE BENING.
13741: MARY TYLER MOORE
14111: VANNA WHITE
14372: The Fast and The Furious: the circular Hollywood house with the pool, where Paul's cop buddies have set up a temporary police HQ (and which they mention is "the house Eddie Fisher built for Elizabeth Taylor"), is probably atop the Hollywood Hills, between Bel-Air and Sherman Oaks.
14527: above Sherman Oaks: the home of actor Harry Dean Stanton ("Alien" & "Repo Man"), where, on Jan. 20, 1996, he was the victim of a home invasion robbery. Stanton was held prisoner by three armed men, beaten, tied up and his car was stolen. Fortunately, his car was equipped with an electronic tracking device, and police quickly located it (near Alcove Avenue and Tiara Street, in North Hollywood) and arrested the suspects.
15147: FAYE DUNAWAY
16405: KEENAN IVORY-WAYANS
* The Skirball Center Drive exit to the northbound San Diego (405) Freeway: where actor/comedian Bill Cosby's 27-year-old son, Ennis Cosby, was shot and killed on January 16, 1997. Ennis had been heading north from West L.A. on the 405, to visit a friend in the Valley, when his car had a flat tire. It was 1:45 a.m. He pulled the car off onto the exit leading to Mulholland Drive (in the Sepulveda Pass), and while he was fixing the flat on the west shoulder of that road, just off the freeway ramp, a stranger shot and killed him for no apparent reason (perhaps during an attempted robbery). An 18-year-old wannabe gang member from Orange County, Mikail "Michael" Markhasev, was arrested for the crime, tried, found guilty and sentenced to life in prison.
* Body Double: that oddball, octagonal house-on-stilts where most of the movie takes place isn't just a studio prop - it's real a real home, and it's located at 7776 Torreyson Drive, south of Mulholland Drive in the Hollywood Hills.
---
Thread: Up and down goes Diane. You guys gonna get a kick out of this! :-) - (Richard Costa)
---