---
---
The Black Dahlia murder has been a baffler. It is the most infamous unresolved homicide in LAPD history.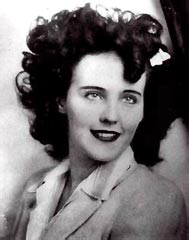 The Story
Elizabeth Short, a 22-year-old wannabe actress, spent several years moving around L.A., gaining odd jobs. Her passion for servicemen and aspiration to be famous made her a "different" woman of her time. Like all of the other pretty girls before and since, Elizabeth (who preferred the name Beth) came to Hollywood hoping to make it big in the movie business.
Her name evolved from her black hair and black attire. Some say she was named the Black Dahlia before her murder, others say the name was applied by journalists to sensationalize the crime.
On January 15, 1947, a passerby spotted her nude body in a vacant lot near Hollywood. Her body, cut in half, was bruised and beaten. It was clear that she had been killed somewhere else and then dumped in the vacant lot overnight.
To date, according to the LAPD, the case goes unsolved.
---
Facts about the murder case that might have influenced the 'Mulholland Dr.' pilot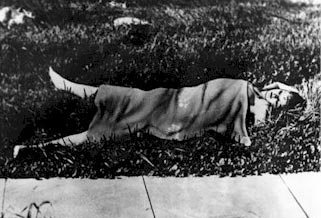 the corpse found at 39th & Norton Streets in South L.A.
Elizabeth Short was a small town girl who wanted to make it in movies.

She bears a certain resemblance to Camilla, often dressed completely in black. Her hair was jet black, her skin was very pale and her nail polish and lipstick very red. Men couldn't keep their eyes off her. She was a natural vamp.

She called herself "Beth," while she was known as "Betty" to her family and friends.

Her body was found by Betty Bersinger.

Ed Burns, whom she dated shortly before, was (among others) suspected to be her murderer.

When Elizabeth went to Hollywood, she roomed with Lucille, a girl who was trying to make a career as a dancer. Through Lucille, she met Barbara Lee, a young actress at Paramount. Barbara was well connected and took the Black Dahlia to the "right" places to be seen.

During the LAPD's initial investigation of the Black Dahlia murder, the following occurred: Just a few days after the finding, two homicide officers sat in a restaurant, discussing the case. After returning to headquarters, they got a call from a man, stating he just spotted the killers. The gentleman was a waiter in the restaurant, and his named suspects were the two officers.

The disposed corpse looked like a broken department store mannequin. The dummy had been shattered and the two halves lay separated from one another. For the shooting after the car accident Lynch's instructed to Harring "to walk like a broken doll".

Soon after the funeral, the police received a package that contained Beth's belongings. One of the item was an address book that belonged to local nightclub owner Mark Hansen. It had several pages torn out. The removed names (pages) were those of high-profile people. According to Ann Toth, an actress, Beth had stolen the address book.
---
The Lynch Connection
Lynch is reported to be intrigued with the Black Dahlia.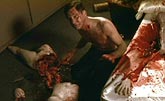 Scene from "Lost Highway"
The case was an influence on the Renee Madison murder scene in 'Lost Highway', and he also discussed his fascination in an interview.

Lynch once owned the rights of a major book about the case. It seems that at one time he had planned to make a film about it, but gave/sold the rights to De Palma.

He's even had the lead detective in that case over to his house for dinner.

Lynch was giving a front cover review on "Severed The True Story of the Black Dahlia Murder", a book dedicated to the mysterious murder.

"...The most satisfying and disturbing conclusion to the black Dahlia case.
After reading SEVERED, I feel like I truly know Elizabeth Short and her killer!"
- David Lynch -
---
---