MulhollandDr.-TheMakingOf (reviewed by blu)
---
Overview | Shortcut Scene | Dinner Scene | Winkie's Scene | Image Gallery | The Thread on RT
---
Shortcut Scene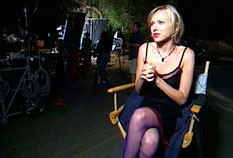 This is the first scene that we actually see some real "behind the scenes" activity. It seems pretty clear that although David obviously has an idea of what he wants, he has no idea how it will actually "work" until they're there filming.
At the bottom of the hill we see Lynch telling Laura how he wants her to approach the car, with Naomi just seeing her appear out of the woods. They shoot a couple of takes and Lynch is delighted with what he has. Laura asks if they're going again. Lynch says "No chance! That's a beautiful thing. So beautiful we don't need another."
Things get a little more interesting at the top of the shortcut where Lynch is determined to a shot that he obviously thinks is important. The steadicam guy is struggling to get the shot Lynch wants, which is a floating shot of the girls, focusing on them holding hands as they come out at the top by the pool. Lynch is watching on a monitor and calling the direction "Hands!" through a megaphone. Lynch is not getting what he wants so he tells the steadicam guy, "If you position yourself where you want them, let 'em come around the bend there, and then you start coming up, and you cue it. You say I'm on your hands, I'm moving to your face, now look at Laura. And you can direct it, and you're set for it. So [to the girls] listen to Randy, I'm gonna try to keep quiet, but I may not be able to."
Lynch effectively allows the steadicam guy to direct a part of the scene, and he gets what he wants, which is pretty cool to see. You get the sense that everyone is completely trusting in David and what he wants. And he is prepared to let go of a little bit to get what he wants.
Oh, and Lynch flirts with the girls on set... big time! And they flirt back. They love him. ►
---