Following the trail of the mysterious landscape painting that resides in the living room of Aunt Ruth's apartment at 1612 Havenhurst has been interesting, albeit frustrating. This painting: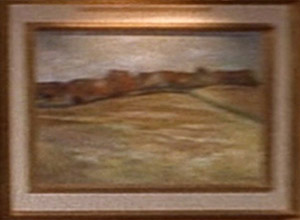 Back in the day, I asked other RT forum posters whether this was a famous painting and such but no one knew. It became more interesting to me when I saw it in the film
The Glass House
(2001) prominently displayed over a mantle.
At first, I wondered whether it was simply an art prop from the prop department. And it might. But The Glass House was made at a different studio (Columbia Pictures) than MD was, so unless both studios are not outsourcing props, it seems less likely based on that information.
Then I noticed it in the film
Something's Gotta Give
(2003). It appears on a shelf behind the desk of an art auctioneer played by the lovely Amanda Peet. So ... now I'm wondering whether the painting may be a famous forgery or famous stolen painting that has become a running inside joke, the irony is the painting is in the office of a fine art auction company that doesn't even know what they have ... or the like. However, it didn't show up during a google image search, so that seems less likely.
Several weeks back, I noticed the painting again. This time on the show
Mad Men (2013) - Season 6 Episode 11: Favors
. It appears prominently above a bed as the husband and wife argue. The images don't do it full justice, but from watching the episode, the painting looks to have texture to it, making it less likely to be just some print. But, I'm not knowledgeable in this area, in the least.
The director even helps us a bit by giving us our best look at the artist's signature. However, the only thing I *think* I can make out is a rather large "Y" at the end of the signature. Hopefully others have better eyes or assimilate things better than I do. The signature can be zoomed in on ... here:
http://www.mulholland-drive.net/forum/download/file.php?id=836
So, I'm perplexed, but I find the chances of a painting prominently showing up four times, beyond improbable unless filmmakers wanted it to show up. And that's only the times
I've
spotted it. There may be several more occurrences. It may even pre-date Mulholland Dr. for all I know.
Lastly, I posted this at an art forum hoping that some knowledgeable person would recognize it. No one did making it quite unlikely that this is some famous or even quasi-famous painting.
So ... what's going on? How do we solve this? Ideas?