---
Sex

Male

Quote:

"This is the Girl."

Sex

Male

Quote:

"This is no longer your film."

Age

Early 60s

Age

Early 60s

Origin

Italy

Origin

Italy

Address

Ryan Board

Address
Ryan Board

Occupation

Mobster

Occupation

Mobster

Family

Vincenzo Castigliane

Family

Luigi Castigliane

Relationship

Mr Roque, Ray

Relationship

Mr Roque, Ray

Doppelganger

Man at Pool Party

Doppelganger

Ed?
---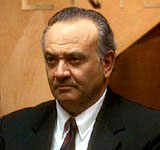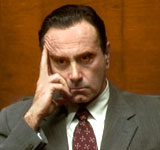 At Adam's dinner party we learn that Luigi is actually an anonymous industry figure. Diane spots him while sipping her espresso and Camilla uttering "Yo nunca fuí a Casablanca con Luigi". Luigi is an Italian name and Diane's stereotypic view of Italians might be that they are working for the Mafia and drinking espressos …Thus she transforms this stranger into the Mafioso mogul Luigi Castigliane who demands an impossibly perfect cup of espresso - his espresso vomiting as being Diane's nauseous feeling towards the engagement announcement of Adam and Camilla. He also obliges Adam to cast a different girl for the part so Camilla would never meet Adam. Here we see Diane's urge to come between Camilla and Adam's wedding. - (Charlotte Dekens & Stijn Creemers)
---
Vincenzo Castigliane (Italian) is similar to Vincent Castellanos (Spanish), the name of the actor who is playing Ed

Castigliane means 'castle people' in Italian. »more on this pun

Castigl[D]iane? (after all the brothers are involved in the casting of the lead actress)
---
Franz Kafka reference?
A possible literary reference behind the Castigliani brothers, meaning, apparently, "caste people.":
I've been reading through a book on Lynch, Beautiful Dark, which states repeatedly the influence the author Franz Kafka had on Lynch and his style. It was a long-standing dream of Lynch's to film Kafka's The Metamorphosis. Kafka's last novel was 'The Castle'. Like 'The Trial', it pictures the universe as a strange, vast bureaucracy. The whole scene with the Castigliani brothers is textbook Kafkaesque. Quote: "Dark and at times surreal, The Castle is about alienation, bureaucracy, the seemingly endless frustrations of man's attempts to stand against the system, and the futile and hopeless pursuit of an unobtainable goal." - (Alacrates)
---
Trivia: The mobster with very exacting taste in espresso is played by Lynch's longtime music composer and collaborator Angelo Badalamenti, which may be a joking reference to the Agent Cooper's coffee obsession in Twin Peaks. »MD cameos
---
---